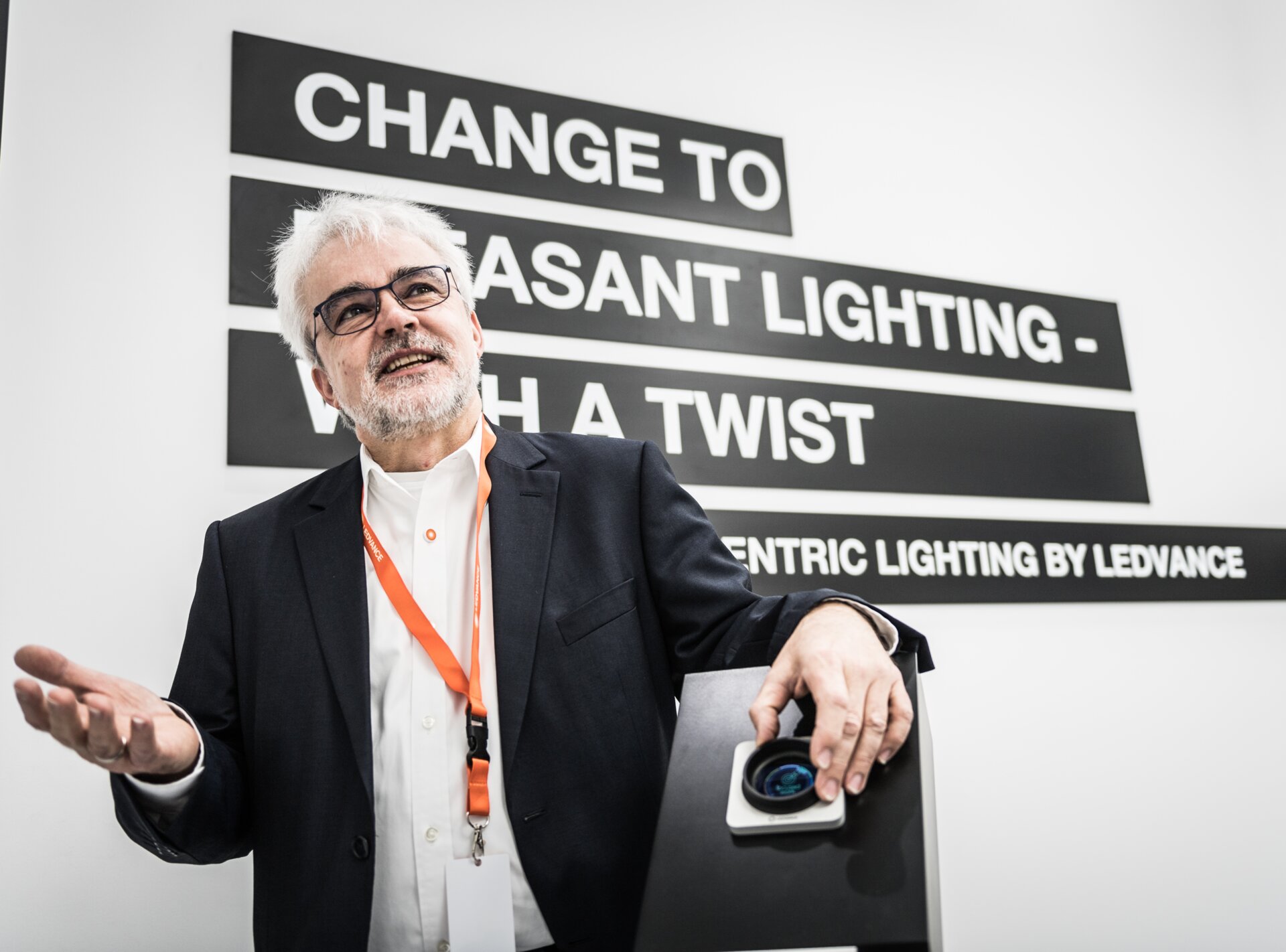 2. What did you do before you joined LEDVANCE?
After my university graduation with a degree in physics and computer sciences, I started my career in the research and development area of OSRAM in 1984. After 20 years in technology, including the development of the XENARC xenon headlight and the HCI Powerball ceramic lamps, I founded the Innovation Management department together with my line manager of that time. Our mission was to develop innovative ideas in a small team. Our many future-oriented initiatives included launching activities focusing on the biological effect of light. This topic fascinated me right away and still does today. I have been working in this field, which is now referred to as "Human Centric Lighting" (HCL), for 15 years now. In fact, at LEDVANCE I'm now able to realize what I couldn't develop beyond the "research" stage in the past.
3. What do you like about your job? And what do you like less about it?
I can experience the progress that we are making first hand. Being convinced that Human Centric Lighting is a promising technology is one thing, but developing HCL products and launching them on the market – that's something entirely different. I think it's great that LEDVANCE addresses this challenging topic. We are not only following a trend, but we want to break new ground and provide real customer benefits.
I'm working in a terrific young international and highly motivated team. And I can still learn something new from my colleagues every day: industry design, C# programming, 3D printing, electronics and lots of other fascinating things. What's also really nice is that everybody around me is interested in Human Centric Lighting and wants to learn from me.
I hope that LEDVANCE and all our colleagues can fully focus on the upcoming tasks and future successes after the numerous changes.
4. What is LEDVANCE? / How would you describe LEDVANCE?
LEDVANCE is a global lighting company that has already come a long way on its path from tradition to innovation, but has to continue along this path to reach its goal.
A modern company with a young international workforce and motivated teams working in an open-minded atmosphere, with all the team members cooperating closely, learning from each other and giving their best.
5. If LEDVANCE were a person, what would its 3 most striking characteristics be?
I imagine LEDVANCE to be an individual that walks on four legs in the morning, on two legs at lunch time and on three legs in the evening – in line with the classical riddle from Greek mythology: A baby that crawls and still has to learn how to walk. A top athlete who has to be extremely fast. But also a fragile old man or woman who needs a crooked stick to bear all the burdens that life imposes.
In the field of HCL, we are just a baby. My job is to help our HCL team to learn how to walk properly, so that we'll soon be able to join all the other kids who are already running around and playing.
6. What would you do if you weren't working (at LEDVANCE)?
Considering my age, I would already think about the time after my retirement – and my wife would wish that we spend more time together, travel more, plan joint activities, etc. I could well imagine that this would certainly be an option. Pursuing my hobbies, such as photography and playing the guitar, would also be cool.
But as long as I think there is still a lot to explore in order to really understand the biological effect of light on human beings and I can make a major contribution to this, I'm truly happy that HCL is an essential part of my life. When I retire a few years from now, I would like to have the good feeling that I've created something new of lasting value. Even though I assume that my previous successes, including the xenon headlight and the HCI ceramic lamps, will not survive the next ten years.