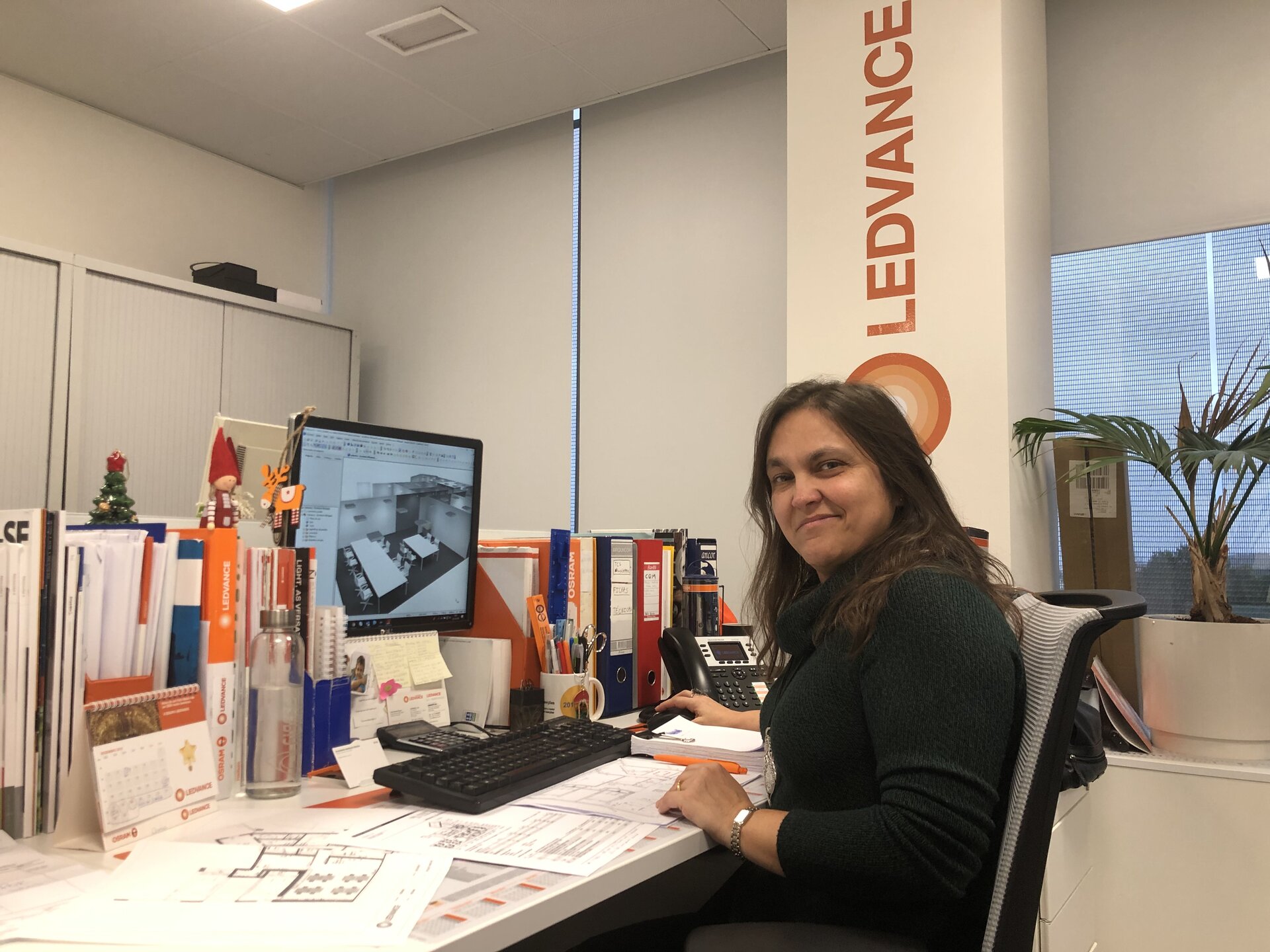 2. What is your favorite LEDVANCE product and why?
I like many of them, especially the design of our new "Tracklight Spot Compact". But to be honest, it can be a bit tough as an application engineer, because once we really like a specific product, we tend to include it in whatever is possible. So, I rather prefer not to have this so-called "favorite product" in order to be able to analyze everything with a free spirit. Without running the risk of not considering all the possible solutions and not finding the best one for the individual case.
3. What do you look forward to when you go to work in the morning?
Well, as a mom of two, the first thing I do is to take them to school in the morning. Sometimes I don't even have time to think before I get to my desk.
Which is fine for me, because I really like what I do. It allows me to grow a little every day: challenges, problems, joy, good or bad experience – regardless of the topic, I want to be able to end the day with a feeling of accomplishment. And then there is the next day and new challenges await me.
4. If you had three wishes, what would they be?
First, as a mom, I wish my daughter and my son all that I can imagine for happiness, health and a beautiful life.
I also hope to be able to make the right decisions, both at work and in my personal life, so that I can feel fulfilled and happy and am able to pass this feeling on to the people around me.
And of course, I would like to become an old lady one day and enjoy a peaceful and healthy life together with my husband.
5. If your life were made into a movie: Which actor would play you?
That is a difficult question for me…there are so many good actors. But, as I really prefer action movies, I would choose Lara Croft to play me. She is strong, fearless, sometimes a little bit reckless with a strong mind and a big heart.
6. How does a perfect weekend look for you?
Well, that depends on the weather. If it is warm and sunny, the perfect weekend would include a long walk on the beach or in the park, together with my "wonderful trio", enjoying our time together and having a yummy ice-cream. If the weather is cold and gray, it would include staying at home, all snuggled up on the couch watching a movie and of course, having ice-cream.
One thing we all have in common in our family is to love ice-cream – regardless of the weather or what we do. As long we eat ice-cream then the program will be perfect.